UPCOMING AUCTIONS
AJSA Deck the Stalls Auction
2019-11-16
NAILE, 937 Phillips Ln, Louisville, KY 40209 - Shorthorn Barn
Deck the Stalls is an American Junior Shorthorn Association fundraiser held annually at the North American International Livestock Exposition in Louisville, Kentucky. The fundraiser has auction items and raffle items available. The AJSA junior board sells raffle tickets to those interested in the barns. We draw raffle items in between auctioning items. All proceeds benefit the AJSA and National Junior Shorthorn Show & Youth Conference.
Click here for more online only or livestock auctions

SIGN UP NOW
Receive email updates and brochure mailings of Wendt Auctions being held in your area.
EQUIPMENT LIQUIDATION AUCTIONS
ANTIQUE TRACTOR AUCTIONS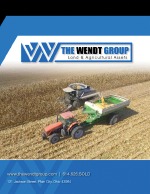 Download your copy of the Wendt Group Corporate Brochure or call for a Mailed Copy