Auctioneer / Auction Advisor
740.572.0756 |
Email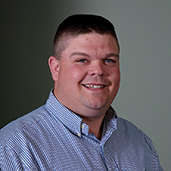 Education & Memberships
Missouri Auction School – 1995
Miami Trace High School – 1996
Hondros College, Real Estate License – 1996
Certified Auctioneers Institute (C.A.I.), Indiana University – 2002
Member of National Auctioneer's Association
Member of Ohio Auctioneer's Association>
Community Involvement
Member of the Crossroads Christian Church in Washington C.H., Ohio
Past member and supporter of the Miami Trace FFA
Member of the Emmaus Community (Chillicothe, Ohio)
Biography
Nick joins The Wendt Group, Inc. with 19 years of experience in the auction industry, focusing in agricultural real estate and farm equipment. Nick's enthusiasm and client-centered relationships continue to drive his passion for the auction industry and the clients whom he serves. He has worked with a variety of sellers, ranging from local farmers, fertilizer and farm co-ops, to dealers and corporate businesses liquidating agricultural assets. Nick has been a part of many award-winning advertising and promotional teams. He and the team at The Wendt Group, Inc. look forward to promoting your auction in new and innovative ways.
Nick and his wife, Sunny, have three children – Tyler, Hannah, and Hayden. They currently farm approximately 1,600 acres and enjoy spending time on the farm together. Much of their time together is spent at the barn working with 4-H projects and supporting their children in their school and church activities. Nick is an active supporter of the 4-H and FFA program in his local community. Nick and his family are also active members at the Crossroads Christian Church in Washington C.H., Ohio. Nick and his wife believe that God has blessed their family in great ways and it is important to share those blessings with others through their service and support.
Nick is looking forward to this exciting time in the auction industry. The auction market is growing and building in momentum. He is excited to meet with you to learn about how he and The Wendt Group, Inc. can promote and market your auction to make your auction day a HUGE SUCCESS!
---
References
On behalf of the Miami Trace FFA, I would like to thank you for partnering with the Miami Trace FFA Alumni to put on the Annual FFA Consignment Sale. The FFA Consignment Sale is a long standing tradition in the Fayette County agricultural community.
Without the generosity and support of individuals like yourself, this event would not be possible.
The Miami Tract FFA Alumni uses the funds from the consignment sale to support our FFA members through senior scholarships, travel expenses and financial support.
Thanks again for your support.
Sincerely,

Cody Clyburn, MT FFA Secretary